An accident is always unpleasant.

However, so that you do not have to worry about claims processing afterwards, we have developed mobile tracker for you!
That's how it works: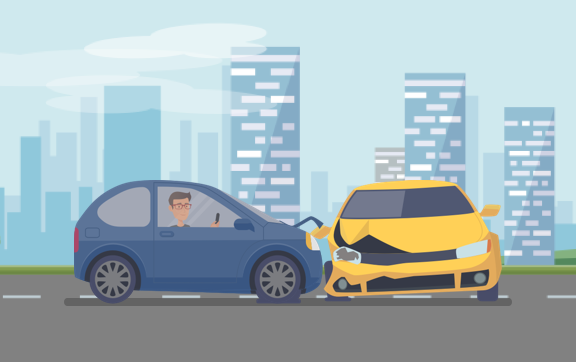 Contact us as soon as an accident happens. You can reach us both by phone and online!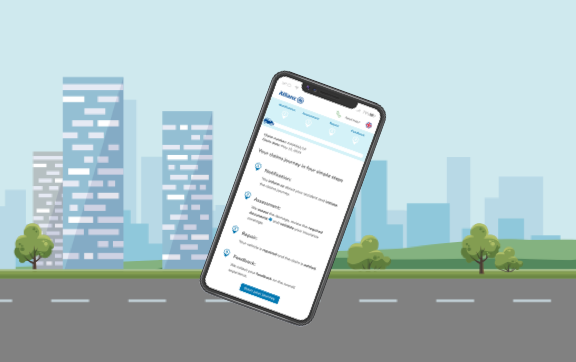 We will then send you a personalised link.
This allows you to track the process of your claim - around the clock!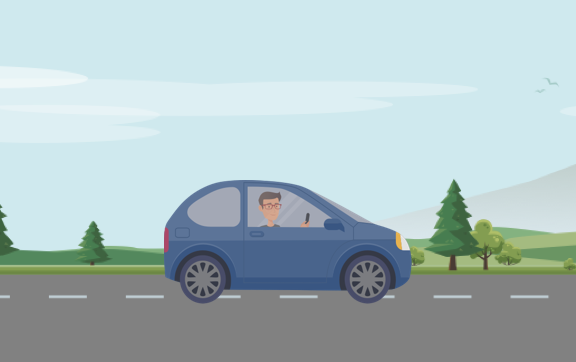 And that's it! 
Have a pleasant journey!
Claims process: simple and intuitive
The 4 steps of claim process - briefly:
Notification: By informing us, you also start the process of claim processing. 
Assessment: We assess the damage, check the presence of necessary documents and determine the amount of insurance coverage. 
Repair: Your vehicle is repaired and the claim is paid! 
Feedback: Afterwards, we are glad to receive some feedback on your experience in order to continuously improve our service.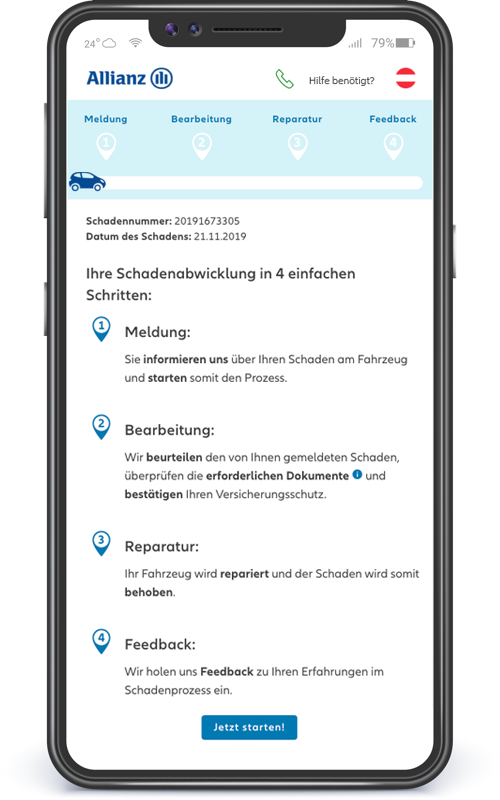 Frequently asked questions about the claims' status tracker
In the event of claim, you will receive a personalized link by e-mail or SMS. This link takes you to a website with information about your damage status. We will keep you up-to-date from the filed report to the repair. Only you will receive the link. After completion of the damage, we ask you to evaluate our service.
You will be notified of your claim updates by e-mail or SMS (depending on the variant you wish).
You can check the status of your car damage online around the clock. This works simple, you only need to click the link in the SMS or in the e-mail. You thus have full transparency about your claim.
Depending on the cause of the damage, you will be asked to provide documents in the form of a JPG file (photo). If you have forgotten a document, you will get a notification.
Yes, this service is totally free.
Yes, the status of your damage is known to your agent.
You can cancel this free additional service by phone or e-mail. You can reach us by 05 9009 565.
So that we can continuously improve our service, we are grateful for any feedback.
Please spend few minutes and let us know your concerns and wishes.
Yes, it is. As an insurance company, we take comprehensive technical and organisational measures in accordance with the GDPR to ensure the security and confidentiality of your personal data. We also use encryption techniques to protect your data from loss and misuse in the best possible way. Further information on the use of your personal data can be found at any time at
www.allianz.at/data-protection
.
Currently, we only offer this service for our  vehicle products.